Du er her: Forside -> English - > APS in the largest battery powered passenger ship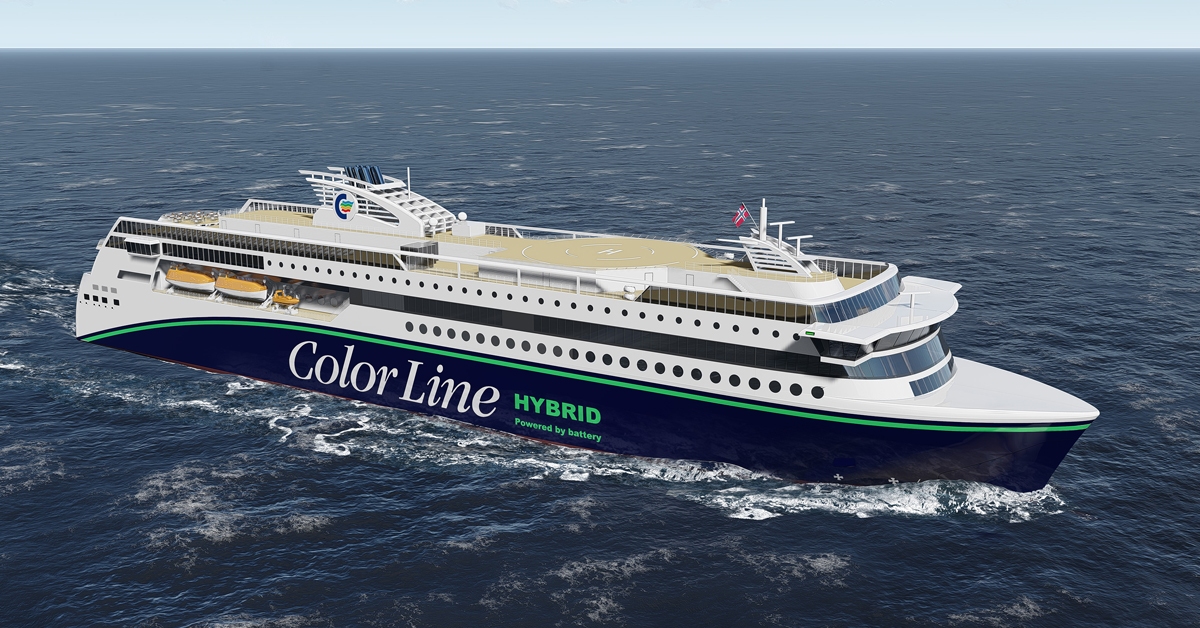 APS in the largest battery powered passenger ship
Publisert 06.12.2018
APS Flexi-Pro units ensure that critical systems in the world´s largest plug-in hybrid ship operate without interruptions.
Eight units of the type Anda Power Solution Flexi Pro have been delivered to Ulstein Verft. These robust UPS systems are installed in the world´s largest battery-powered passenger ship and will ensure that Color Hybrid has continuous access to secure power for critical systems.
"We are proud of being the preferred supplier of a UPS solution for Color Hybrid", says VP Thomas Anda.
The environmentally friendly ship will begin operating on the Sandefjord - Strømstad route over the course of 2019. Tu.no writes that the journey to Sweden is 38 nautical miles and takes 2.5 hours. The batteries are designed to handle manoeuvring from the wharf in Sandefjord, a 30-minute journey past Kvernberget at the edge of the fjord and to repeat this task on the return trip. Over the course of an hour at the wharf, the batteries are to be recharged in order to handle yet another roundtrip.
Anda-Olsen has delivered UPSes with a 30-minute backup battery. The UPSes comply and are certified in accordance with the latest rules from ship classification societies, in addition to the requirements of the Norwegian Maritime Authority.
"Our UPSes ensure that there are no power outages or downtime for critical loads and are crucial for the secure operation of the ship", says Anda.
All-in-one system
Anda Power Solutions (APS) are customised power solutions that are developed and produced in Ålesund. They deliver an all-in-one system since all of the cabinets can contain power supply, alarm module, distribution, earth fault monitoring and necessary transformers. Batteries are placed in suitable cabinets or separate adapted rooms. All of Anda Power Solution's systems are delivered with the necessary certifications from DNV, Lloyds and others.
"We deliver a broad range of systems that are to comply with all requirements from shipyards, shipping companies and operators, and we have all the necessary certifications for our products. Many are unaware that we deliver all-in-one cabinets".
The APS Flexi Pro series is delivered from 10 to 100 kVA and can be connected in parallel if there is a need for additional capacity. A UPS can be equipped with a dual input system that allows it to operate with two independent supplies. For example, on ships, it is common to have two sources; ordinary supply and emergency supply.
In other words, needs will determine the contents that an APS Flexi Pro will possess and the systems have several available options that cover all needs for a UPS onboard a ship or for other industries. The remainder of the range covers integrated AC and DC UPS systems, regular UPS systems, battery chargers, battery systems and power supplies.
Many advantages with APS Flexi Pro
In addition to being flexible in terms of content, these products have special properties and ingenious solutions that make them easy to place, offer better access and take up less space than other UPSes. You gain access to all components from the front of the cabinet and the rest of the cabinet can be built in. The components can easily be pulled out from the front and be replaced or inspected.
The cabinet can also be equipped with ventilation on the top so that it can be placed flat against the wall behind it. It has a compact design to save space and this makes it easy to install. It is a solid product with a broad frequency tolerance and high efficiency and is designed for the most challenging of environments.
Flexible UPS solution for all industries
Flexi Pro is built in a very robust enclosure and is a flexible, professional and unique series, adapted for all types of use, but especially for industrial, maritime and offshore use.
"We largely deliver our solutions to the maritime market and oil and gas, but APS Flexi Pro is absolutely of interest to other industries, including mining, aquaculture, manufacturing and heavy industry, as well as road, railway and tunnels, power plants, hospitals and smelters. In fact, all industries that have a need for a secure power supply", says Thomas Anda.
Additional deliveries
In addition to delivering eight UPSes to Color Hybrid, Anda-Olsen will deliver customised power solutions for the next two newbuilds from Ulstein Verft.