Du er her: Forside -> English - > Safe passage for the world's first self-driving ferry
Safe passage for the world's first self-driving ferry
Publisert 14.02.2023
The world's first autonomous passenger ferry is set to be launched in Stockholm in 2023, equipped with a custom emergency backup system from Anda-Olsen.
Ferry company Torghatten and autonomous provider Zeabuz are delivering the world's first self-driving city ferry for commercial operation.

Brødrene Aa will be responsible for constructing the ferry and has chosen Anda-Olsen as the provider of the much important emergency system.

- Anda-Olsen will deliver two battery packs, one for the starboard and one for the port side. These will serve as a secondary system in case of an emergency where the primary system fails to ensure that the ferry returns to shore, Øyvind Strømsheim explains, who leads the project from Anda-Olsen's side.

Will be monitored through a control room on land

The ferry to be built is a 12-meter electric catamaran that will travel between Kungsholmen and Södermalm in Stockholm. The ferry will have a capacity of 25 people and will be in continuous operation for up to 15 hours a day.
Initially, there will be a captain on board the ferry, in addition to a person in the control room on land. Eventually, the ferry will be able to be controlled exclusively from the control room, according to Torghatten.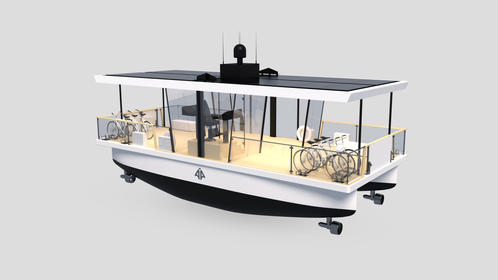 Waterways will become increasingly important as a transport route
This is not the first time Anda-Olsen is collaborating with Zeabuz on autonomous ferries. In 2021, Anda-Olsen delivered monitoring and charging systems to the world's first driverless mini-ferry, milliAmpere 2.

Zeabuz was formed commercially as a result of a NTNU research project, which this mini-ferry was a part of.

The project was a success, and for Zeabuz, this autonomous city ferry will be a natural next step from the test project.

- We learned a lot from our project in Trondheim, and now we're ready to take the next step by creating the world's first commercial autonomous city ferry. The technology will largely be the same, but in Stockholm, we will truly test the autonomous system in daily operation with passengers in a way that no one has done before. This will be incredibly exciting. Erik Dyrkoren, CEO at Zeabuz says.
Are you looking for tailor-made battery solutions? At Anda-Olsen, you'll meet a dedicated engineering team who are experts in safe power supply. We can help you see which products and technical solutions are right for your individual project.