Du er her: Forside -> English - > Complete control with Anda Cloud monitoring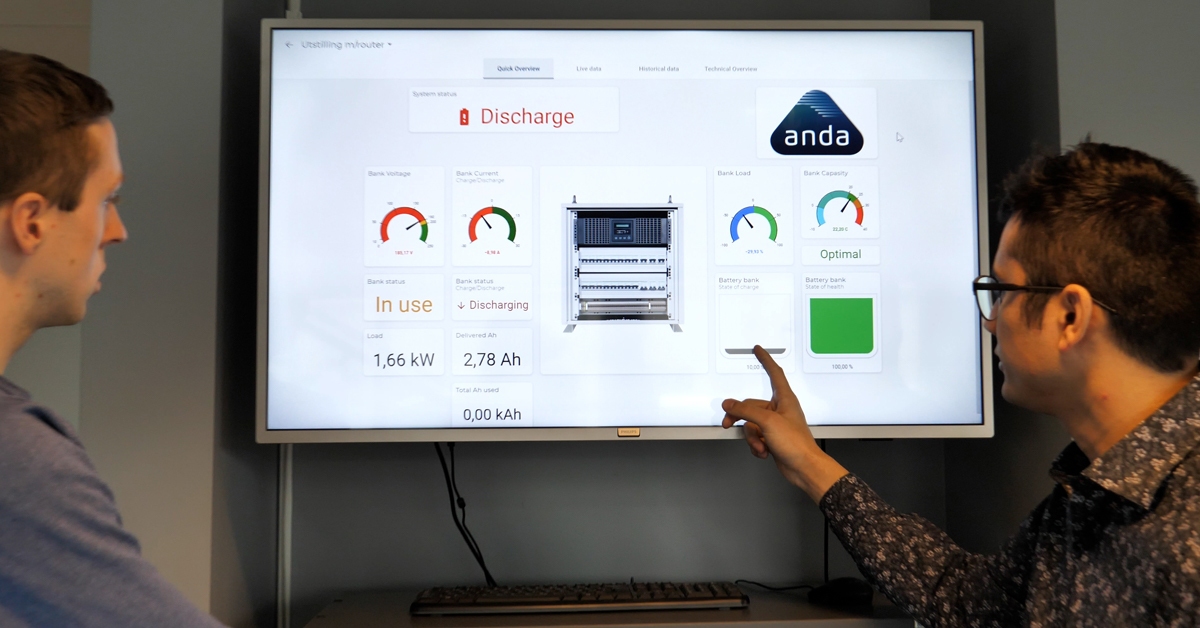 Complete control with Anda Cloud monitoring
Publisert 24.03.2021
Anda-Olsen develops an advanced system for monitoring the condition of batteries and UPS. This contributes to further safeguarding critical installations.
"We have been working on a solution for 24-hour monitoring of the systems we deliver. This has been of great value to our customers, who have critical systems that cannot allow for downtime", says Jon Kjærstad, Managing Director at Anda-Olsen.
Operation and uptime becomes 100 per cent secure with the monitoring system Anda Cloud. The system provides a complete overview of the condition of the equipment, which will ensure that the critical systems are functioning at all times.
Here is an example:
If a battery in a power bank fails or some of the values drop below a certain limit value, the monitoring system will detect this and a warning will be issued. Thereby, the customer or Anda-Olsen can initiate measures before the situation becomes critical. This enables you to know that the backup system is functioning as it should in the event of a power outage.
"Anda-Olsen also offers to manage both monitoring and reporting, for those who prefer to outsource these tasks", explains Michael Carroza, Segment Manager for Infrastructure at Anda-Olsen.
Advantages of monitoring
Michael Carroza heads the development of Anda Cloud. This monitoring solution is especially important for companies and institutions that are dependent on critical systems being up and running at all times.
"Our goal is to gather real-time information from all of the critical components in one place, so that the customer has a good overview of the condition of their equipment at all times. For example, we can gather all UPSes in a single network, which provides a good overview. This results in two major advantages for the customer; it saves them travel time when they avoid the regular, smaller inspections, as well as the cost of dispatching an inspector or installer", explains Michael.
At the same time as it is cost saving by avoiding outages of critical systems, there is added security in knowing that the backup system with UPS and batteries is functioning when you really need it.
"You quickly gain an overview of where the error is located, you have complete control of the condition of each battery and can easily correct possible errors", says Michael.
Read more: Integrating Anda Cloud with Kongsberg Digitals Vessel Insight.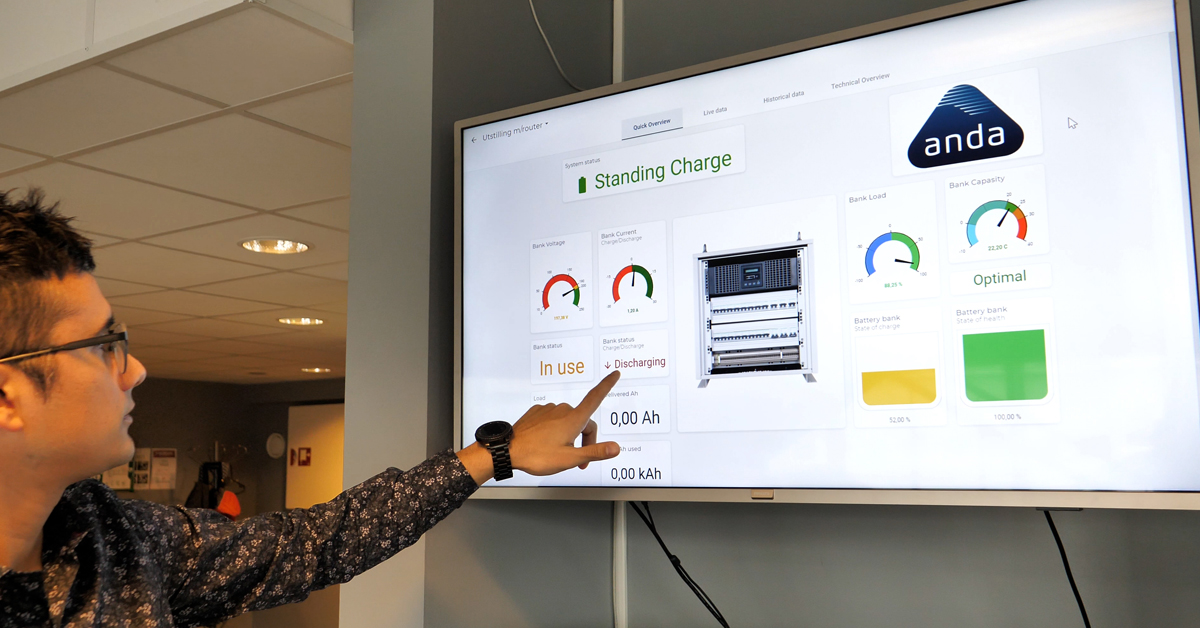 Based on IoT
IoT means Internet of Things. In the industry, this means smart sensors that are attached to items such as production parts, machinery and conveyor belts, and in the case of Anda-Olsen; UPSes and batteries.
These sensors collect data on how the equipment is operating and regarding the condition of the system, at all times. This information will inform the monitoring system of whether a component is operating outside of its normal condition and will issue a warning if something is not right. It will then be possible to read directly from the system where the deviation is located and thereby implement corrective measures.
Everything gathered in a clear web interface
Michael and Anda-Olsen started with a solution that was to monitor own power banks and UPSes 24/7 but Anda Cloud can now also be connected to most types of backup systems.
"We wanted to develop a solution that can help more people and which can easily be connected to other systems or components than just our own", says Michael.
"We have managed to develop a web interface in Anda Cloud which is clear and which makes it easy to read all of the data that are collected in real time. Here, you receive a dashboard where you can gather multiple systems, regardless of location".
You can access Anda Cloud both on PC and via an app on your phone.

Predictability for those in charge
Operators, project managers on newbuilds, IT managers, inspectors and installers with transmission system operators, at hospitals, offices, shopping centres and large buildings are just some of those who will benefit from this monitoring system from Anda-Olsen.
"We help those who are in charge of critical installations by making them more predictable and secure", Michael concludes.
Would you like to know more?
Here you can read about all the advantages you get with Anda Cloud.