Du er her: Forside -> English - > Growing export of UPS solutions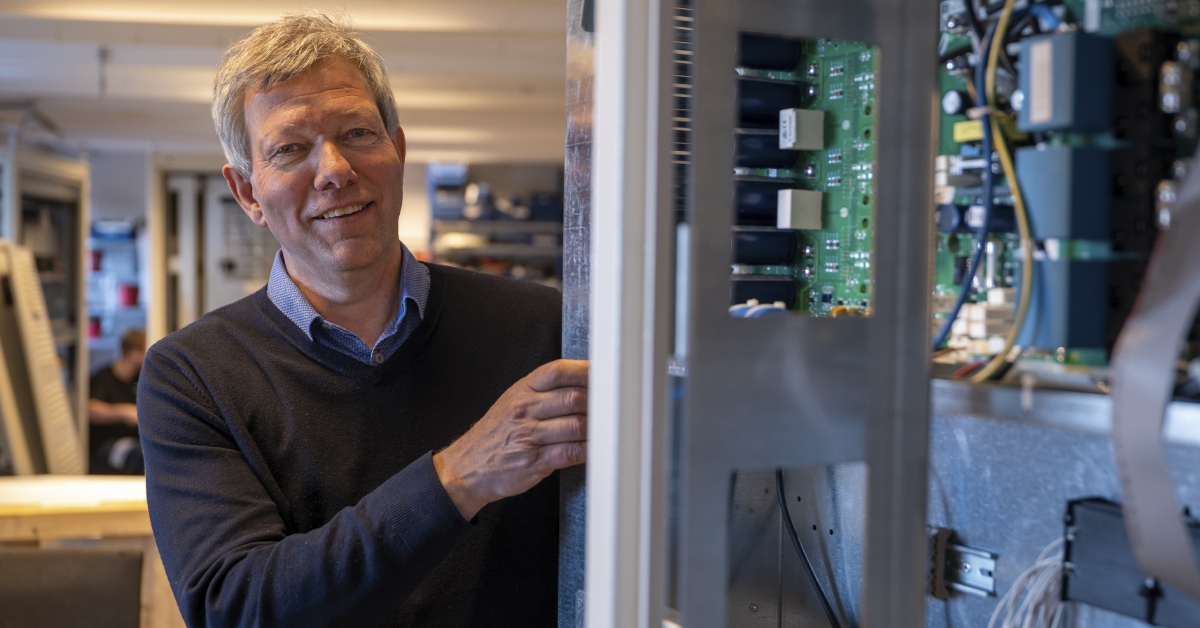 Growing export of UPS solutions
Publisert 27.06.2022
With less expensive UPS solutions and faster delivery, Anda-Olsen is seeking to export its in-house developed UPSes to even more international customers.
- The most common solution for us at Anda-Olsen is to customise UPSes for each individual customer. We will of course continue doing this but will also offer a number of selected, standardised UPS solutions, developed based on our extensive experience in the field, explains Jon Kjærstad, Managing Director of Anda-Olsen.
The goal is to offer both less expensive products and faster delivery of the standardised UPSes.
UPS for the maritime market
Anda-Olsen is a Norwegian company based in the coastal city of Ålesund, in the Norwegian maritime cluster, and is one of the country's larger suppliers of Uninterruptible Power Supply products for critical installations.
For more than half a century, the company has developed unique competence in the field of power supply designed for challenging conditions. The in-house developed products are specially adapted to the challenges that arise on board ships and satisfy the strict requirements in the maritime market. Furthermore, Anda-Olsen supplies more general UPS solutions and standardised products to several other markets, including public bodies, power companies, the aquaculture industry and to electrical installers nationwide.
- Our in-house developed products have unique qualities that have been well received by our Norwegian and international maritime customers. We have a good market share in the domestic market, so the greatest potential for further growth is found with the international customers, says Jon.
3 in-house developed product ranges first out
We are seeking strong promotion and sales of Anda Power Solutions (APS) to the global market: DCPro, ACPro and FlexiPro.
- Anda Power Solutions are carefully developed, robust and space saving. They also include smart details that enhance user friendliness, such as rail mounting, which allows for components to be pulled out, making it easier to perform service, explains Jon.
By offering standardised versions of the UPSes based on the many years of experience that Anda-Olsen possesses, the company hopes to be able to scale up and reach out to more customers worldwide.
- Currently, approximately 20 per cent of Anda-Olsen's customers are located outside of Norway. We have a clear goal to increase export sales. Initially, we are seeking to contact new ship designers, shipping companies and shipyards, which build everything from ferries to cruise ships and specialised tankers, says Jon.
Increase among maritime customers
Currently, a growing share of Anda-Olsen's customers comprises precisely maritime companies. They have recently joined Kongsberg Digital's Kognifai Marketplace; a digital ecosystem where Vessel Insight customers can gain access to Kongsberg Digital's preferred partners and third party suppliers in select segments/markets.
In 2021, the Western Norway fund Novela Kapital (Novela) joined as an investor and acquired 43 per cent of Anda-Olsen, which facilitated continued growth in the company. To date, it is looking like 2022 will continue the positive trend.
- We have enjoyed a strong order intake in the first part of 2022, which we are very satisfied with, considering that we also continue to feel the effects of the pandemic and now also the situation in Ukraine, says Jon.
Monitoring solution - a natural next step
Another product which Anda-Olsen has great faith in and which they are also prioritising for release to a wider audience is the monitoring solution Anda Cloud. The IoT system monitors and reports on the condition of components and systems, including power banks, UPSes and hybrid solutions, in real time.
- This is a product that is very relevant from an environmental perspective. With complete control of each individual component, you will be able to optimise the lifespan of the batteries and ensure more condition-based maintenance of installations. In turn, this will entail a reduction in physical inspections and that you will at all times be ahead of the curve. You will no longer have to replace components due to uncertainties regarding their health condition, explains Jon.
Want to learn more about UPS?
Here you can read more about some of the companies that have chosen Anda Olsen as their UPS provider: